The Aqueon Holiday Gift Guide 2021
Do you have an fish lover on your list?
The holiday season is just around the corner and it's time to start putting your gift list together! If you have an aquarium lover on your list, or a non-hobbyist who would like to be, we know how difficult it can be to come up with fish-related gifts they'll like—and actually use—especially if aquariums aren't your thing. Here at Aqueon, we've put together some ideas based on the types of aquariums that will help giver and recipient alike. Not to mention the fish!
Click our downloadable Gift Guide below to find the products for the aquarium set up you are shopping for. The guide allows you to click right to the product page you need to help ease the process of choosing a gift for someone or even yourself!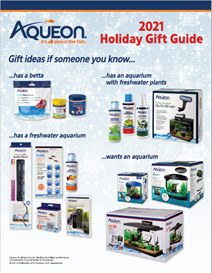 Click the button below to download this interactive gift guide to shop even easier this season!
Download PDF
Gift Certificates
Still can't decide what to get that fish person in your life? Don't despair. Why not get a gift certificate at their favorite aquarium shop and let them pick out a fish or piece of equipment they really want or need?
Please note, we don't recommend gifting the actual fish or other aquatic creatures. You need to have time for the aquarium to cycle prior to adding fish and you won't know if they'll get along with other tank mates. There's also the dilemma of where to keep a fish until you give it to that special person. A better idea is to give a gift certificate!
Have a Safe and Happy Holiday Season!
Please join our newsletter, connect with us on Facebook or contact us for more information.